Category Archives: Halloween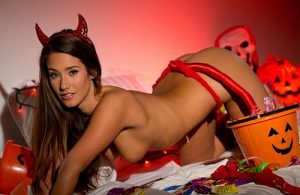 http://www.real-sexcontacts.com
As Halloween approaches, costumes become the talk of the town. For one magical weekend, anyone can become anything — spooky, sexy or something in between.
But there's no reason to restrict our wildest fantasies to Halloween — role-playing offers a chance to explore sexuality from different perspectives by taking advantage of power dynamics. Role-playing with partners presents an opportunity to let go of inhibitions and introduce creativity to sexy time.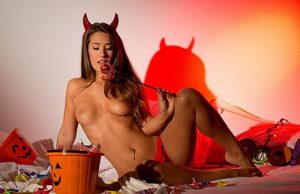 Setting the scene
Sharing fantasies with partners may seem daunting at first, but a healthy sexual relationship includes understanding what turns our partners on. That said, role-play isn't for everyone, so one should respect a partner's refusal to participate. Once obtaining consent for the role-play, partners can discuss the actual roles. Role-playing scenes may be taken seriously or not depending on the players involved. Scripts can range from elaborate to makeshift and take place in person or online.
Though certain role-playing fantasies get more heat than others, essentially any role can become the basis for an excellent erotic experience. Mainstream role-playing scenarios often depict heteronormative, vaguely sexist scenes, such as an executive and secretary or teacher and schoolgirl. But these roles can be played by all genders and partner combinations, preserving the setting while eradicating sexist overtones.
But some people find nothing wrong with following traditional gender roles in their brand of play, though plenty of scenes exist beyond the clichéd norms. Use the following scenarios as a jumping off point to create the perfect role-play:
Doctor/Nurse/Patient: "Don't worry, I have an extra-large tongue depressor right here."
Sex Worker/Client: One partner assumes the role of an escort being paid for sexual services.
Executive/Assistant: Power dynamics and professionalism mix for a steamy fantasy encounter. Extra points for including a desk.
Repair-person/Client: A little overdone in pornography, perhaps, but still a great starting point.
Master/Slave: Elements of BDSM come into play as the slave must do everything the master orders them to.
Photographer/Model: Get behind a camera to take some sexy nudes until no one can resist each other.
Stripper/Client: Channel your inner Channing Tatum and bring plenty of $1 bills.
Teacher/Student: No matter how good our grades are, in this role-play scenario we really want the D. Extra points for including an apple.
Firefighter/Rescue: Sometimes when things get hot, the best response is to use a hose and get wet.
Masseuse/Client: Break out some massage oils and rub each other down before a happy ending.
Characters: Reenact a steamy scene from your favorite book or movie.
Criminal/Cop: A great opportunity to break in those handcuffs.
Strangers: Arrange to meet somewhere and pretend you don't know each other.
Porn Stars: Whether or not you choose to actually record the encounter, pretending to perform can be incredibly titillating.
Pirate/Captive: Just be careful with that hook.
Superheroes: Nothing like a catwoman suit to get people going. Playing superheroes during sex can make partners feel invincible.
Pet/Owner: Many people turned on by nonverbal play enjoy the opportunity to wear a collar and allow their partner to dominate them. Plenty of kinky stores sell collars and leashes.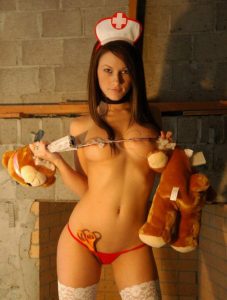 http://www.real-sexcontacts.com
Dressing up
Wearing costumes to fit the role helps get into character. Even wearing one accessory — an eye patch, firefighter hat or wrench — can put one in the mood to play someone else. Mix and match leftover Halloween costumes with your sexiest underwear, and add cologne or perfume that personifies the role.
Costumes may be intricate or simple; the important thing is to feel comfortable, confident and sexy. For those who can walk in them, heels may add an element of domination. The material of a costume can alter sensations as well. Silky smooth fabrics feel amazing on the skin, while rougher materials may emulate the scene better and provide some interesting friction.
Once you dress for the role, it becomes much easier to play the part.